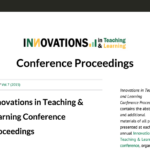 Mason Publishing Group recently partnered with the Center for Teaching and Faculty Excellence (CTFE) to publish the proceedings from this year's Innovation in Teaching and Learning Conference. The event, which was sponsored in part by the University Libraries and Mason Publishing Group, was very successful, bringing in over 300 attendees and featuring the scholarship of many of our colleagues in the library.
Built using our journal publishing platform, Open Journal Systems, the Conference Proceedings served as an online guide to the conference, providing access to session information and presentation abstracts in a mobile-friendly format. It will continue to serve as a place for presenters to share their papers and presentation materials with colleagues locally and across the broad academic community. The publication has been very successful, with 71 unique visitors to the site during the two days of the conference and pre-conference workshops, many of whom returned to the site multiple times.
We invite you to browse the Conference Proceedings and learn more about the excellent panels and posters presented at http://journals.gmu.edu/ITLCP.
Publishing conference proceedings is a priority for the Mason Publishing Group. There is an abundance of innovative research taking place and being shared on the George Mason campuses, but that research is at risk of being ephemeral without mechanisms to publish, share, and preserve. As you plan for upcoming conferences, consider publishing the proceedings with Mason Publishing.
To learn more about publishing conference proceedings with the Mason Publishing Group, contact John Warren at jwarre13@gmu.edu