The much anticipated move has occurred! After a busy January and early February, Mason Publishing has settled into our spaces on the 4th floor of the new Fenwick Library.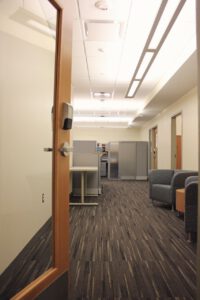 On January 19, the new Fenwick library opened to faculty, staff, and students, expanding the space available for study and collaboration within the library. The new space has made it possible for the various offices of Mason Publishing to reorganize in order to better serve the needs of the Mason community.
From these new office spaces, Mason Publishing is coordinating our efforts to support the innovative scholarly work produced by the Mason community. Come visit Mason Publishing and discover the many ways we can help you produce, distribute, and preserve your scholarly work.