The following Open Educational Resources (OER) collection includes scholarly articles and other research on the benefits, uses, development, and adaptation of OER. Given the rapid growth of the OER movement, both in terms of the academic credibility and attention of policy makers it has gained, it is important for us to monitor the OER landscape as it continues to evolve. To learn more about open educational resources in higher education and how you can get involved in the OER movement, check out the rest of the series:
Part 1: Course Content and Textbooks | Part 2: Open Courses and MOOCs | Part 3: Grants and Advocacy | Part 4: K-12 Resources
---
Open Educational Resources: Breaking the Lockbox on Education (White Paper) (http://bit.ly/ME3p5o)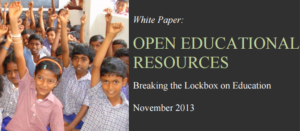 The Hewlett Foundation's Education Program is committed to openness and transparency in its grantmaking. Recently, the Program revisited its Open Educational Resources (OER) strategy in an effort to better understand how its philanthropic investments—within the context of the larger funding landscape—can help integrate OER into mainstream education. This white paper is the result of their research, which presents a roadmap for transforming teaching and learning by shifting OER from a small-scale movement to standard education practice.
"Ten Years Later: Why Open Educational Resources Have Not Noticeably Affected Higher Education, and Why We Should Care" (http://bit.ly/1j2vpju)

In this article, Educause Review contributor Gerd Kortemeyer argues that OERs have not noticeably disrupted the traditional business model of higher education or affected daily teaching approaches at most institutions. Kortemeyer reviews the four major hurdles he believes to be hindrances to the adoption of OERs and offers his vision for how these barriers can be surmounted.