The University Libraries, Mason Publishing,
and the University Bookstore
in conjunction with the New Leaves Festival
present
Helon Habila
In a reading and booksigning of The Chibok Girls: The Boko Haram Kidnappings and Islamist Militancy in Nigeria
Wednesday, April 5
7:30-9:00 pm
Main Reading Room
Fenwick Library
Fairfax Campus
George Mason University's Associate Professor of Creative Writing Helon Habila offers a compassionate and powerful account of one of the most horrific recent tragedies to occur in Nigeria: the kidnapping of 276 girls from the Chibok Secondary School in April 2014 by Boko Haram, one of the world's deadliest terrorist group whose name translated into English means "western education is abhorrent." Habila, a native of Nigeria, traveled to the country twice to track down some of the escaped girls and their families and reconstruct what happened on that fateful day and how the town is coping. He situates the kidnappings within the political and historical context of the rise of Islamist extremism in Nigeria, which is deeply rooted in its tragic history of colonialism.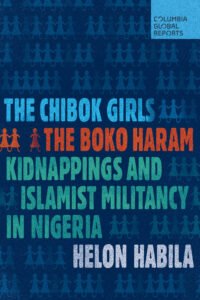 "A dispatch from the front lines, as Habila travels to the town of Chibok, where the landscape is riddled with burned tanks and bullet holes, and vigilantes pick up the slack for the inadequate and ineffectual military….Habila incorporates vital background knowledge on the situation in Chibok and the surrounding area; as a poet, he adds sensitivity and eloquence, capturing the raw emotion of the wounded town."
~ Publishers Weekly
Helon Habila grew up in Nigeria and is the author of three novels, Oil on Water, Measuring Time, and Waiting for an Angel. His fiction, poems and short stories have won the Commonwealth Prize for Best First Novel (Africa Section), the Virginia Library Foundation's Fiction Award, and the Windham-Campbell Prize. Oil on Water was shortlisted for the Commonwealth Writers Prize, the Orion Book Award, and the PEN/Open Book Award. He is an Associate Professor of Creative Writing at George Mason University.
Refreshments will be provided.
The Mason Author Series is sponsored by the University Bookstore.