The University Libraries, George Mason University Press,
and the University Bookstore present
Playfair: The True Story of the British Secret Agent Who Changed How We See the World

Thursday, March 22
2:00-3:30 pm
Main Reading Room
Fenwick Library, Fairfax Campus
Featuring author Bruce Berkowitz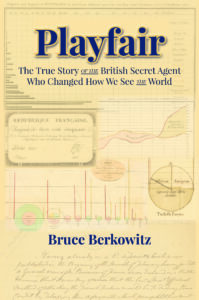 William Playfair may be the most famous person you have never heard of. Best known today as the inventor of "statistical graphics"—the line, bar, and pie charts we all use today—Playfair was also a pioneer in strategic analysis, and a secret agent who carried out espionage and subversion against France on behalf of Great Britain.
This is the first book to uncover the full, true account of this remarkable, colorful man—undeniably brilliant, hopelessly flawed, and fundamentally important. Its pages reveal the astounding inventions and adventures of this larger-than-life swashbuckler, rogue, genius, and patriot.
"In addition to being a draftsman, inventor, company promoter, land speculator, economist, patriotic pamphleteer and bank-note counterfeiter, Playfair was a secret agent and international conspirator… He was adept at ducking and weaving from the truth, covering his tracks, mystifying his motives, and protecting his sources. Mr. Berkowitz's Playfair is above all a work of ingenious detection and reconstruction."
—The Wall Street Journal
Bruce Berkowitz is the author of several books and articles about national security, history, and international relations.
Refreshments will be provided.
The Mason Author Series is co-sponsored by the University Bookstore.