The University Libraries, Mason Publishing,
and the University Bookstore present
Patricia Ferrell Donahue

Discussing her new book: Participation, Community, and Public Policy in a Virginia Suburb
Thursday, November 16
3:00-4:30 pm
Main Reading Room
Fenwick Library
Fairfax Campus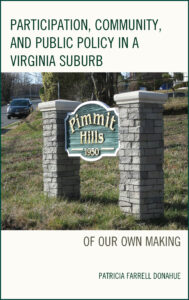 Participation, Community, and Public Policy in a Virginia Suburb challenges conventional wisdom about the nature of modern American communities. Through the story of Northern Virginia's Pimmit Hills, she finds many more types of activities shape a community, than just those few typically tracked by social scientists, such as volunteering. Communities are the sum of a wide variety of participation—positive, negative, formal, informal, direct, and indirect. Pimmit Hills's rich history will be familiar to those who grew up in middle-class suburbs, while its proximity to Washington, D.C. makes its story unique.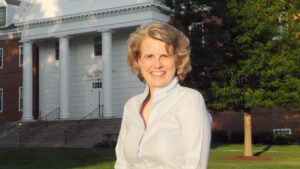 Patricia Farrell Donahue received her M.A. in public policy from Georgetown University and Ph.D. in public policy from George Mason University. She is the 2014 Recipient of Mason's Robert L. Fisher Award for Best Dissertation and Academic Achievement. She works as a senior policy analyst in the federal government, studying community and economic development, health, banking, defense, housing and other topics. She also serves as a Policy Fellow at Mason's Schar School of Policy and Government.
Refreshments will be provided.
The Mason Author Series is co-sponsored by the University Bookstore.